Tornado Season: Are You Prepared?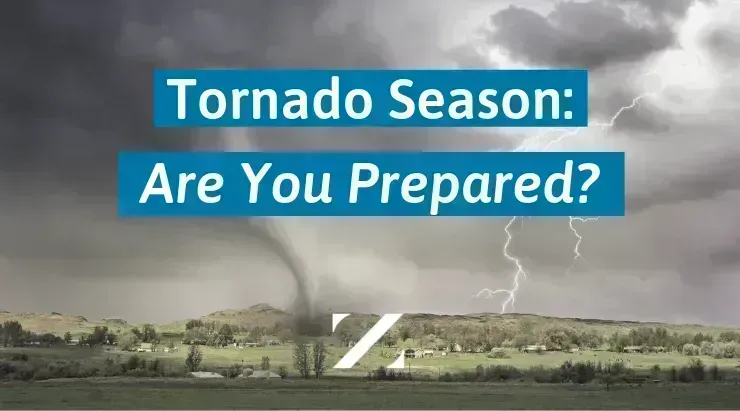 In the United States, tornadoes cost billions of dollars in damage each year.(1) Even if you're not in the direct path of a tornado, the wind, hail, and rain is enough to make everyone take cover and pray their home doesn't flood or lose a roof!
We're in the thick of tornado season, but with the right homeowners insurance policy you don't have to worry about storm damage destroying your bank account. Here's how to make sure your policy provides the coverage you need.
Does My Homeowners Insurance Cover Tornado and Storm Damage?
Whether or not your insurance covers tornado damage depends on where you live, the type and amount of coverage you have, and what causes the damage. Most policies will cover storm damage caused by the following perils:
Wind
Hail
Fire
Lightning strikes
Falling objects
Explosion
If your policy covers those risks, look for the dwelling coverage portion of your policy. That would be the amount dispersed to help pay to repair or rebuild your home. Then, find the personal property coverage amount. That portion would help pay to repair or replace your personal items that were damaged or destroyed inside the home.
There are usually limits to the amount your policy will pay toward any of these losses. It's always important to carefully read your homeowners insurance policy and know what risks it may or may not cover. We can help you review your coverage so you can determine whether your limits are what they should be for your home.
Keep in mind that flood insurance is almost always in its own category. So if a storm causes flooding in your home, even if your policy covers many other damages — like wind and hail — damage caused by flooding would likely not be covered. Let us know if you're concerned about flooding in your area.
Protecting Your Home against Tornadoes
At Zander Insurance, we don't believe in one-size-fits-all coverage. Our Guides shop over a dozen of the top insurance companies to tailor policies that fit your unique needs and location (like if you happen to live in Tornado Alley)!
What makes Zander unique? We've got your back for the life of your policy. That's how we've served our clients for nearly 100 years.
Don't stress over tornado season. Get in touch with Zander to get covered today!
(1) Insurance Information Institute, 2018