Why You Need Auto Insurance . . . Like, Now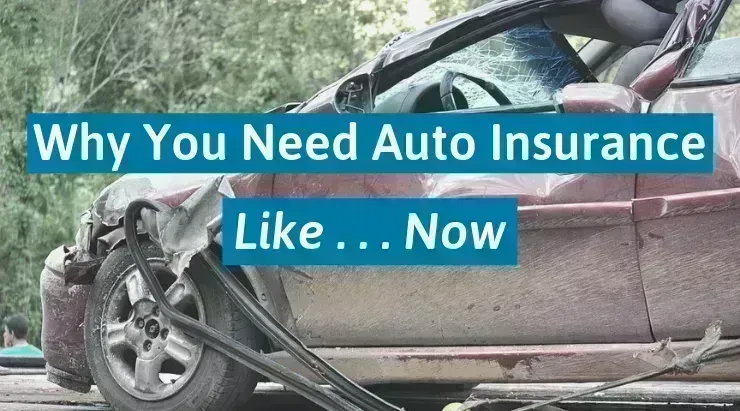 Purchasing car insurance is one of the most important things you can do to protect yourself.
Why? Well, it's the law, for one thing. Another reason? The average amount auto insurance pays out per accident is between $3,000-$4,000. There are about 6 million car accidents in the U.S. every year, and half of them result in injury.1  If there are injuries in a wreck, the cost of a claim skyrockets. You don't want to get stuck paying that kind of money out-of-pocket!
You might think that most car accidents happen during the winter months, when weather conditions like snow and ice make driving extra risky. But in reality, August is the most dangerous month for drivers.
Why August is the most dangerous is a bit of a mystery, but study upon study — year after year — confirms this month still holds the title. So now is the perfect time to make sure you have the right coverage for you. Even if you're already insured, we can shop current rates and save you a lot of money!
Do You Have the Right Auto Insurance?
There are several options to choose from when it comes to auto insurance, so it's worth it to shop rates once a year. Here are some types of coverage to look for in your auto insurance policy:
Liability Coverage: If you're at fault for an accident, this coverage will cover the costs of any damage or injuries caused in the crash. Most states have minimum requirements for this. Here at Zander, our Guides are trained to know the laws in each state, so that we can get you the right amount of coverage.
Collision Coverage: If you're in a wreck, this will cover the cost of repairing or replacing your vehicle.
Comprehensive Coverage: This insurance covers any losses related to your vehicle, including theft, vandalism, fire, and hail.
How Zander Saves You Money on Auto Insurance
Car insurance doesn't have to break the bank. Zander's nationwide service compares multiple insurance plans, helping you find the most competitive rates for the exact coverage you need! The best part? We shop rates for free.
Here are 7 advantages to working with us:
We represent the country's top independent auto insurers.
We'll give you multiple quotes to make sure you get the right coverage for the most competitive price.
We're happy to help you understand the different coverages that are suitable for your insurance needs and your budget.
We will review your policy each year to make sure your rates stay as low as possible.
Easy payment options, flexible down payments, and personalized service.
With four generations and nearly 100 years of experience, we'll be here to help you each step of the way.
Our partnership with Answer Financial allows you to compare and save online in all 50 states.
What are you waiting for? Let us help you find the best rates!